Core features
Aether Pro is a discussion app that aims to make working with your teammates easier, simpler, and distraction-free. It makes conversations stay on-topic, organized, and easy to find later in the future.
---
Channels
You can create as many channels as you like with AP, and every one of these channels will have their own unique email address. For example, the channel Product in Acme team will have the email address of product@acme.mail.aether.app.
The only people can email a channel are team members, and single-channel guests added to that channel.
We are working on a feature that allows a channel to be marked as a public inbox so that you can use a channel to receive and respond to your support tickets.
---
Smart threading
Have you ever got forwarded a 65-message email thread? It's tough figuring out how to even begin reading a thread that's dozens of messages deep.
Aether's threading is more robust. For example, if someone decides to respond to a mail that is not the latest one, the thread does not split into two different conversations because Aether is smart enough to figure that out and keep it as a single thread. This means you can have multiple ongoing conversations in the same thread, but it will still make sense, now and forever.
Blue markers indicate that it was your post, and orange markers are for new posts.
The posting times are converted to human-friendly times (i.e. 54 minutes ago) so that you will know if it's the right time to respond to your remote team.
The emails have an easy-to-read mobile design activated only on mobile devices.
They have a dark mode so your eyes will thank you if you're checking your email later in the evening.
They support markdown.
They have code highlighting for engineers so any patch you send over mail will be appropriately rendered.
And more features that we've thought about and built to make it more human-friendly, and your life easier.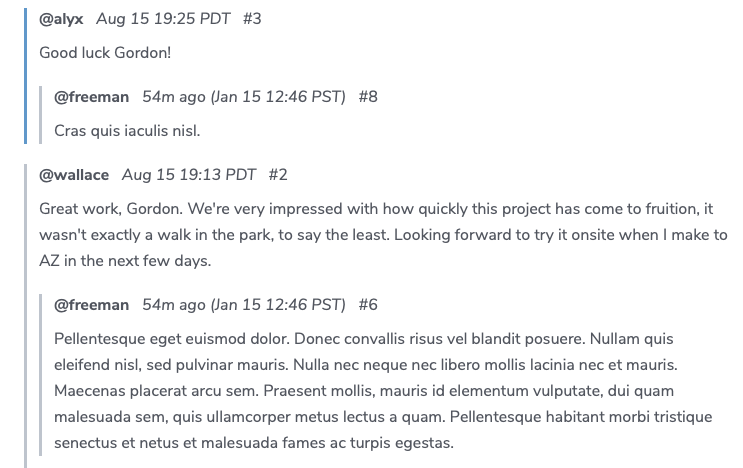 We've designed things to be a little more friendly. Even if your colleagues love Comic Sans as their email font, you'll be spared.
---
Voting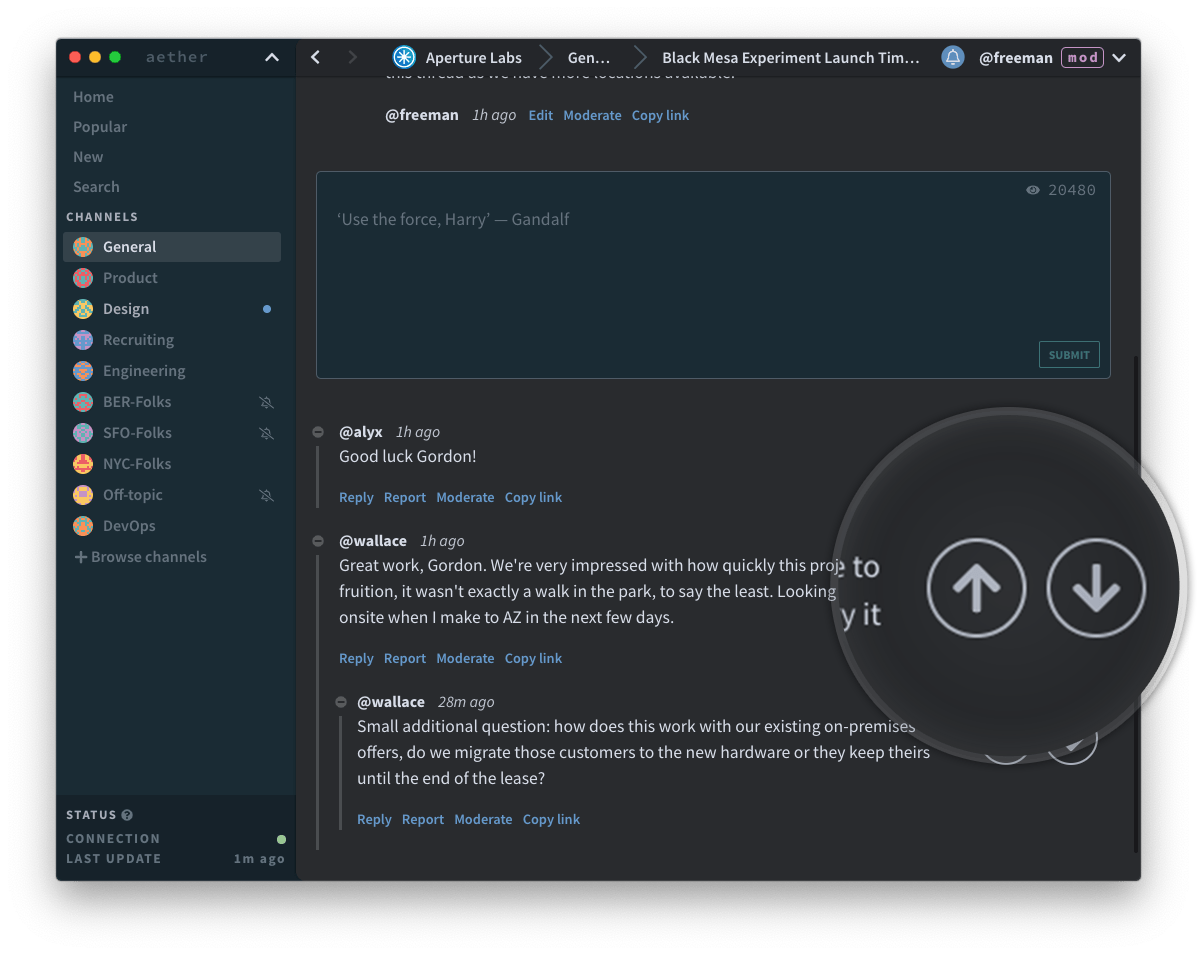 Voting allows the most important content to surface to the top.
You can vote on responses on Aether. The highest-voted responses will filter up to the top of the thread. By this process, Aether finds the most important 20% of any discussion, and make it rise to the top. The benefit is that this significantly reduces the time you spend reading your mailbox since you can read the top of any thread and get the most of that discussion.
This is one of the major features of Aether reduces the number of messages you need to read every day, saving you time day in, day out. For a comparison of how much time and money you can save by using Aether, check out an example calculation.
---
Guests (Single-channel members)
Free guests added to channels are useful for working with external contractors and in loosely-associated groups of people, such as attendees in an event you might be hosting. Guests are single-channel, but they are free, so you can add however many of them as you need.
Guests do not need to sign up for anything or install an app. (They don't have app access). They will get the discussion as emails, and they will be able to respond to join the discussion. Guests cannot access your other channels. You can remove them at any time.
Typically, you add members who need to access all channels as members (also called team members) and those who just want to use it through email, and only need access to a single channel as guests (also called channel members).
You can add guests from [Channel Name] > Channel members.
---
Adopting Aether Pro
Adopting Aether is easy because your teammates don't need to do anything. When you start a team and add them by their emails, that is all the setup they need. From that point on, they can use Aether Pro entirely through email, and for them, it will look like attractively formatted group emails.
If they decide to upgrade their experience and install the app, they get access to more advanced features, however, the core functionality of Aether Pro is exposed through both email and the app. For example, you can join a channel by sending a join() command to that channel's email, or you can do so from the UI in the app. Currently available mail actions are documented here, with more to come.
No-risk promise
We understand that sometimes our app is not what you need, and you might need to move on. For that reason, we have also made sure that un-adopting Aether Pro is easy as possible. Since the app sends the posts as emails when the app is closed, you will likely have a copy of every thread in everybody's inbox as plain old email messages. If this is the case, you need to do nothing, since you already have a copy of everything in your mailbox.
You can also get a database export of all messages.
Have questions? We're friendly
You can reach out to us at support@getaether.net or through live chat. We'd be happy to give you a demo or talk about your team's individual situation.
Or, if you're ready to get started, you can do so below.